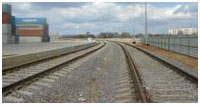 Rail transportation is considered a reliable and rapid means of transporting goods.
Сontainer transport by rail - the most convenient way to deliver cargo to any destination.
We offer our clients the following services for the organization of transportation of goods by rail:
The organization of the railway to send large-loaded and empty containers in the territory of Russia and the CIS

Forwarding the territory of Russia and the CIS

Making rail transport documents

Develop a thumbnail loading location and attachment of cargo in containers according to TU

Provision of flatcars for transportation of containers

Receive containers from rail carrier, including goods under customs control

Sending containers as part of a Container Train

Reception and dispatch of containers with Dangerous goods

JSC "Contrans" actively involved in the proposed JSC "RZD" scheme of work with the latest developments in information technology with the use of "ETRAN" and proposed JSC "RZD" priorities in the field of freight forwarding in rail transport.